We Choose Healthy Environments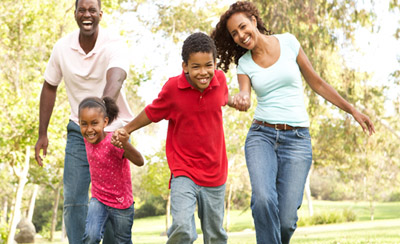 Improving and increasing opportunities and access to safe environments for physical activity can reinvigorate communities and create healthier residents. We Choose Health will fund and support local communities to accomplish safe environments through the following three initiatives:
Complete Streets
Complete Streets is a planning model that ensures new and reconstructed streets are designed to accommodate bicycle and pedestrian traffic in addition to automobiles and public transportation. This means that every transportation project in a given jurisdiction will make the street network better and safer for all commuters. Complete Streets will make it easy to cross the street, walk to shops, and bike to work; allows buses to run on time; and makes it safer for people to walk to and from train stations.
Safe Routes to School
Safe Routes to school is a program to establish designated pedestrian and bike-friendly routes for children and others to use when traveling to and from community schools. Providing Safe Routes to School will help make active transportation, such as walking and biking, safe and attractive modes for children to use when traveling to and from school. Resulting infrastructure and system improvements can include adding sidewalks or new crosswalks; safety programming and events for drivers; student pedestrian and bicycle safety education; and reduced speed near school zones and in neighborhoods.
Joint Use Agreements
The sharing of space between schools and communities makes it easier for people to be active and healthy. These partnerships, often called Joint Use agreements, enable communities to keep costs down and residents healthy. Increasing Joint Use agreements will permit community members to access safe environments for physical activity. In many Illinois communities, especially rural, access to safe facilities for physical activities/exercise is limited. Expanding access to these facilities, such as by expanding hours or permitting other community members to use the facility would support active living through access to safe and healthy built environments.
Resources
U.S. Centers for Disease Control and Prevention (CDC)
National Prevention Council
Complete Streets
National Complete Streets Coalition
National Policy & Legal Analysis Network to Prevent Childhood Obesity
Safe Routes to School
National Center for Safe Routes to School
Safe Routes to School National Partnership - Local Policy Guide (PDF)
Safe Routes to School National Partnership - Low Income Guide (PDF)
Illinois Department of Transportation
Joint Use Agreements
Model Joint Use Agreement Resources, National Policy & Legal Analysis Network to Prevent Childhood Obesity
Opening School Grounds to the Community After Hours: Toolkit for Increasing Physical Activity Through Joint Use Agreements, Public Health Law & Policy (PDF)